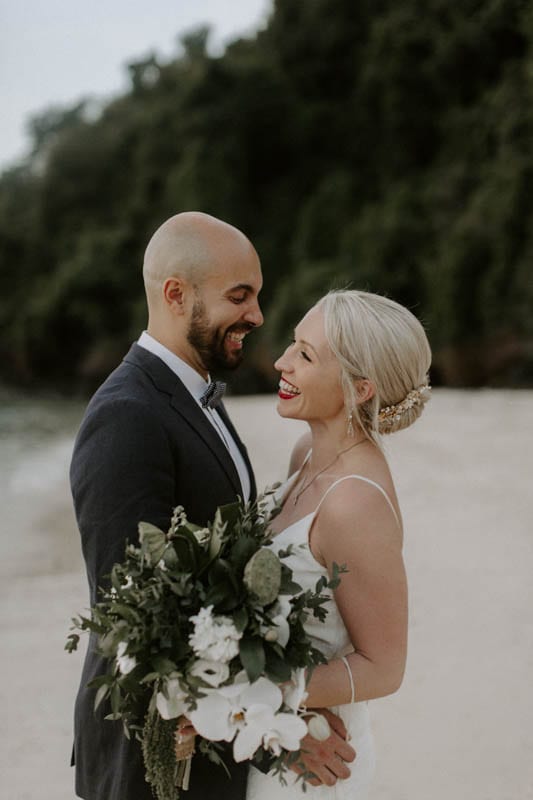 "We had the privilege of having Grace and Mitch join us in Thailand to film and photograph our wedding. They managed to capture the real essence and feeling of our day, having skilfully caught and documented so many lovely wee moments we didn't even realise they had seen. They were everywhere at once, without ever seeming front and centre. Having Grace and Mitch there felt like having friends as our photographers.
In every phase of the wedding their work ethic was clear, by constantly going over and above to get exactly what they needed to give us the perfect photographic memories – even to the point of Mitch pushing our sleeping baby in her buggy along the beach! Our photographs truly blew us away by how beautiful they are, and the video is so special – all a true representation of our wedding day and everyone who was there with us.
Our wedding, and the lasting memories in print and film, simply wouldn't have been the same without Grace and Mitch having been there. We would recommend them to anyone."
Anna & Stephen
Thailand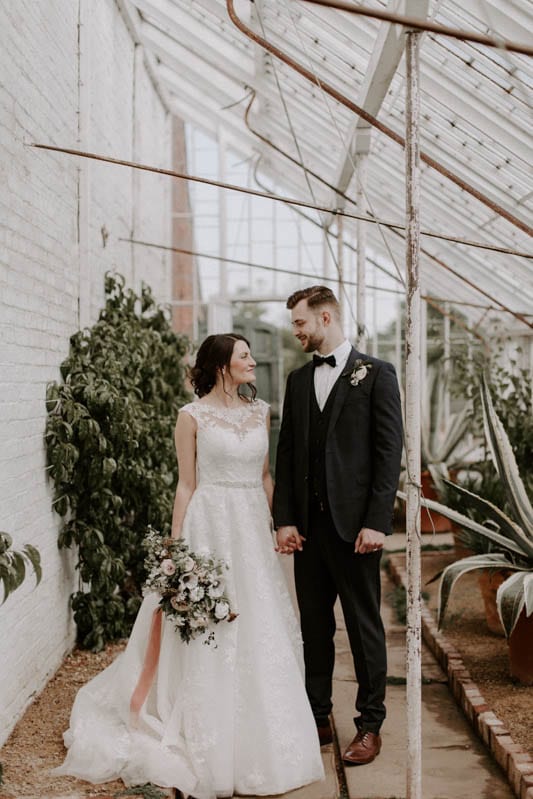 "The photos that Grace and Mitch have produced for us, are photos that we will treasure for the rest of lives. When we thought of our wedding day, and the notion of being photographed, in truth we were a little nervous – yet, as soon as we met with them both our minds were firmly put at ease! Their warming and calm presence on the day helped both us, and our guests, to feel comfortable throughout, and their incredible ability to somehow blend right into the background meant that they didn't miss a single key moment, not one.
Now, as well as being lucky enough to have the most beautiful portraits of ourselves, we also have the pleasure of witnessing the special memories of our friends and family, in moments that on the day, we as the bride and groom, had never even noticed. Just by looking through our enormous gallery of images, we are catapulted right back to our wedding with such clarity – it's both breathtaking and emotional, and so very special.
There are really no words to explain the talents that are Grace and Mitch, and no way to say 'thank you' enough for their time, patience, vision, and passion for their work. We are so, so lucky, and tremendously grateful, that they were the ones to photograph our day – and we would recommend them above anyone and everyone else to those getting married. Thank you both!"
Hannah & Jordan
Derbyshire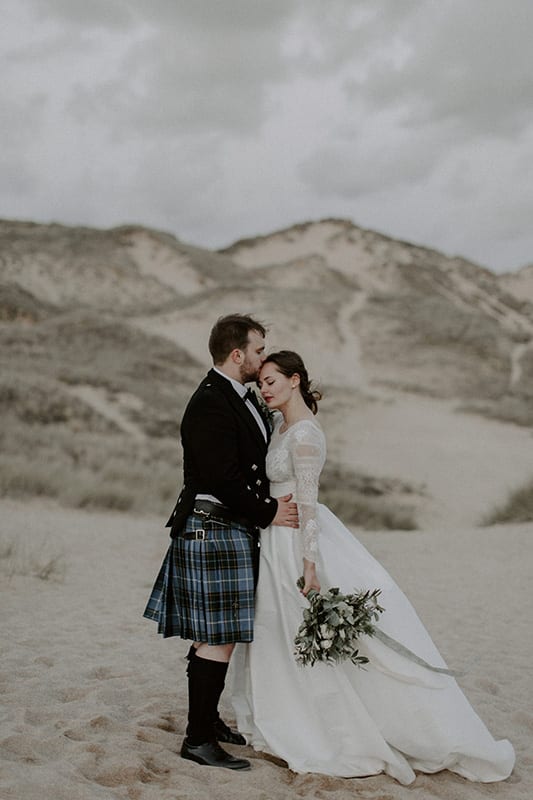 "Grace & Mitch immediately felt like friends we'd known for years. There truly aren't words to fully express just how much we adore and cherish the photos and films they produced for us. From the outset, the (almost) two year lead up to the wedding, and even now (almost a year on), Grace & Mitch have been nothing but a delight to know and work with. They took such great care to learn as much as they could about us, our story, and how we envisioned our day being captured. We trusted them wholeheartedly, but they surpassed any and all (already high) expectations. People don't lie when they say your wedding day is a haze, so being able to recall so many moments once the dust had settled was so beautiful. Grace & Mitch took such care to capture the moments they knew were important to us without being invasive at all. In fact, so many people commented on how warming they were and that they felt just like guests! If we could relive our day one thousand times over, we'd choose Grace & Mitch every single time."
Rachael & Craig
Cornwall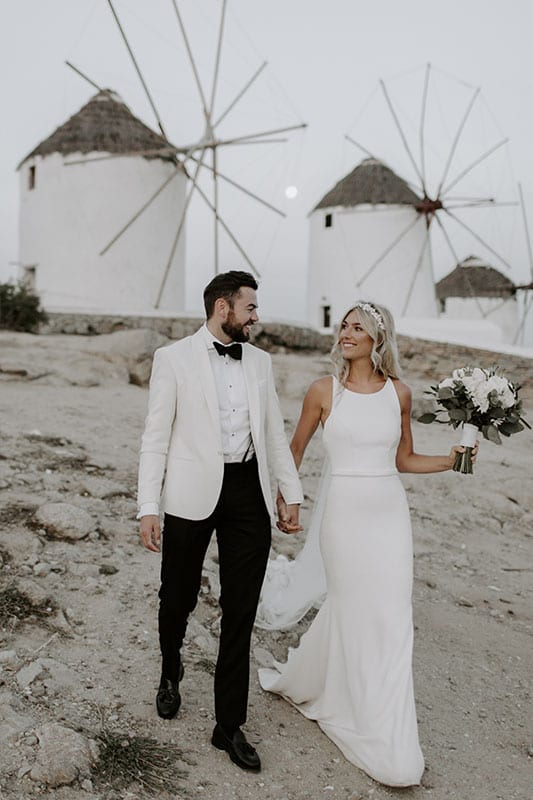 "There are no words that will ever express how grateful we are for the moments Grace & Mitch captured, we will forever be in debt to you. There is no doubt in our minds that they were the best vendors we had and what's more they were more than just vendors for us. They took time and effort to go above and beyond to make our day as magical as we had dreamt it to be.
From the moment we booked them they offered guidance and advise on the whole day, they wanted to get to know us personally to understand exactly what we wanted and who we were. They were overwhelmingly accommodating, incredibly patient and infectiously calm. The wedding day itself is a fraction of the work they put into making it special from the endless reassuring messages, advise and tips for a bride, Skype calls to understand us fully for the lead up to the wedding, to an additional sunrise shoot 2 days after our wedding to get footage of the beautiful Mykonos town and what's more they'd even got up at 4am to check out the best spots a few days prior and meeting us the day before our wedding to see the venue and check out all our favourite spots!
Then for the day itself, wow I can't even begin to explain the hard work they put in that wasn't just obvious to us but to every single guest. It was as if they weren't even there, yet they captured absolutely everything and more than we'd asked for. I could talk for hours about their hard work and professionalism but what stood out most to us was the utterly wonderful people they were.
We are truly overwhelmed with everything they did for us and I don't think they will ever know how impressed we are with every single photo and every video they have created for us and just how grateful we are for absolutely everything they have done for us. These are memories we will cherish forever and it's all thanks to them. Grace, Mitch your work is a true work of art you are both incredibly talented and the incredible comments and compliments our guests gave you isn't just a representation of your amazing work but a reflection of the truly wonderful people you are. Thank you both so much, for everything!!"
Mia & Ryan
Mykonos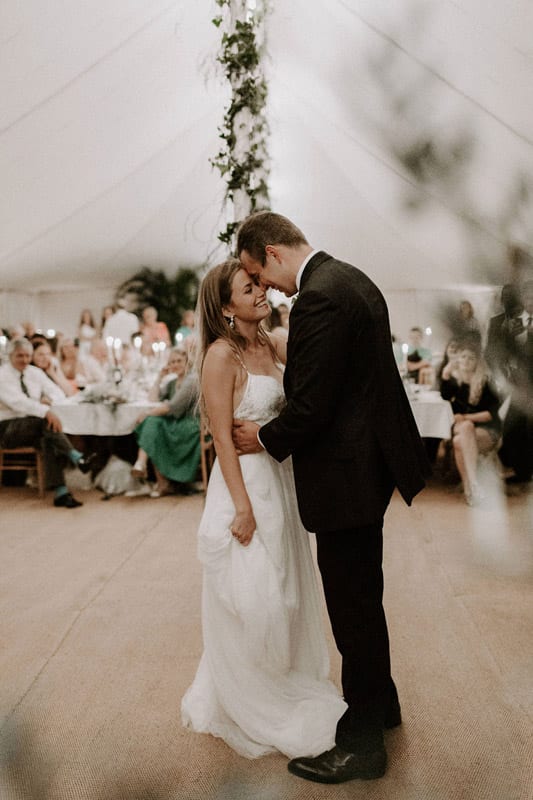 "It was so special to have Grace & Mitch capture our wedding day. Our photos and video took our breathe away, I wept (with joy) when we went through them, they perfectly capture the joy and love we remember from the day. We have special moments caught in time that we truly will treasure forever. The quality of the photos and video is honestly incredible and we feel so privileged to have them to remember our day.
Grace & Mitch were so dedicated on the day, even waking at 6.30am to capture Chloe's morning swim. Throughout the day Grace and Mitch sensitively captured everything, we were at total ease and never felt like they were in the way. Our experience with them was something to treasure and we're so glad we chose them for our special day.
Thank you Grace & Mitch, your photos and video are exquisite and so professional we couldn't have asked for more! We are over the moon with them. If there is one thing I would recommend to future couples it is definitely choose to have Grace & Mitch film your wedding. Rewatching our day brings it back so tenderly and beautifully and the way they captured it is so so special. We feel so blessed to have it! You are both so truly talented! Thank you!"
Chloe & Dan
Isle of Wight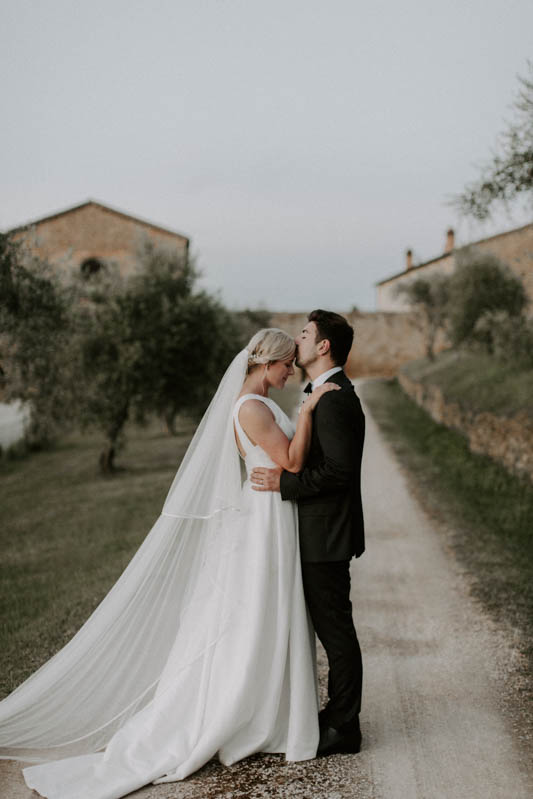 "We wanted to say a huge thank you to you both for all your hard work on our big day! You were both so easy going and relaxed and it really helped us. One of our favourite parts of the day was going into the town with you guys for the pictures, that experience was so special and it really calmed us down, meaning we were much more chilled out for the rest of the day!
It didn't go unnoticed how nice you guys are, all of our guests mentioned how kind you were and how hard you worked. We love our wedding film so much, we can't tell you how happy we are. I think we're on our hundredth watch! The photos are also unbelievable and we look forward to looking at them over and over again. We had a struggle to decide which one to print on our thank you cards because we love them all so much! We really can't thank you enough."
Lauren & John
Italy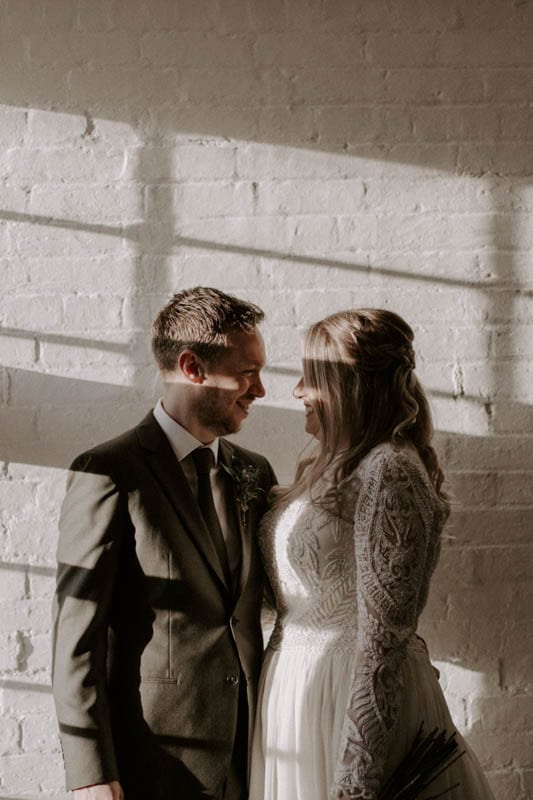 "Grace and Mitch did such an amazing job of capturing our wedding day. We are over the moon with the photos, as are our friends and family. They were recommended to us by a friend and when we saw their website and portfolio of work, we knew they were exactly who we wanted as our wedding photographers.
When we first met Grace and Mitch, they instantly put us at ease with their friendly, welcoming personalities and we left feeling very confident that they would produce incredible photos in their own beautiful style that we had seen and loved.
They captured all the moments from our day so perfectly and we couldn't be happier with each and every photo we received. Their wealth of knowledge and experience was apparent from our very first meeting and we are so pleased we chose Grace and Mitch as our wedding photographers. They are insanely talented and we fully recommend them to anyone for their special day."
Debbie & Liam
Derbyshire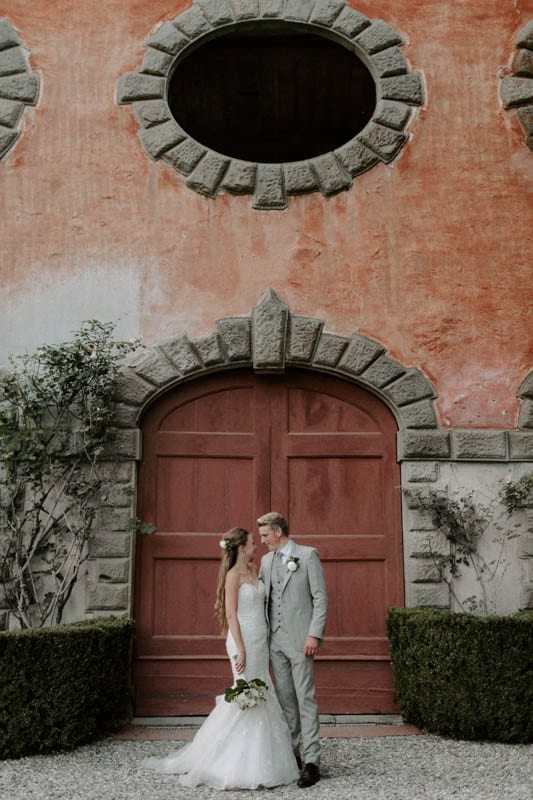 "Grace & Mitch your work is unbelievable!!!! Firstly thank you both so much for being a complete dream to work with, our photographer and videographer decision was very important for so many reasons and we definitely made the right choice! We are blown away by your work, the photos are absolutely beautiful, every single one is my "favourite", I wish I could frame them all. You've captured every moment and we couldn't be happier with the finished product.
We were thrilled to receive our wedding video, we were so excited to watch it, I sobbed my heart out twice in one night watching it! The video is amazing, the music.. everything! It brought back every feeling and emotion from our special day, we wish we could do it again!
We shared the photos and videos with our guests, everyone is completely in awe of them, as are we. We have received such lovely compliments on our day and your work, so many guests have said your work is the best they've ever seen, we feel the exact same.
You both were a pleasure to have there on our day, so friendly, always smiling and just easy going… your work is like nothing we have seen before, every part of it is beautiful.
You really are a dream team, we wish you all the best for the future and look forward to seeing even more of your lovely work and travels online."
Samantha & Charly
Italy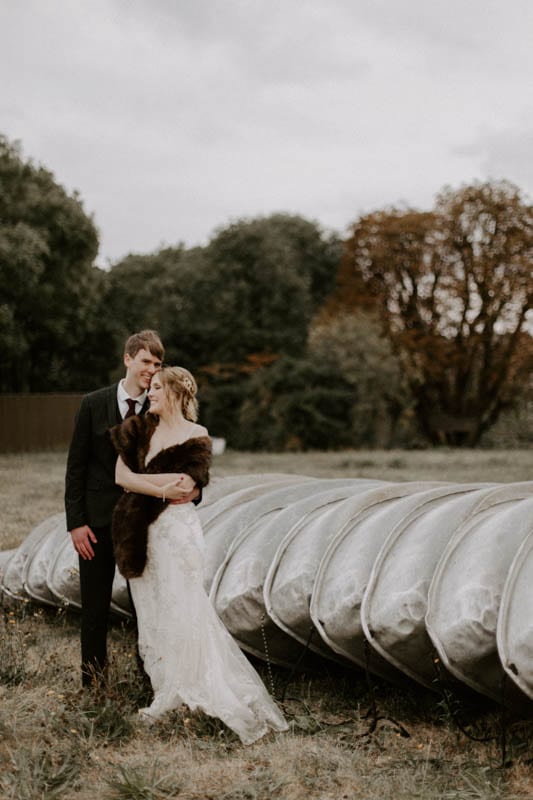 "Mitch and Grace did an incredible job of capturing our big day, both the video and photography are breath taking, far better than we could have ever imagined. The biggest compliment, whilst it might sound odd, is that it was easy to forget that Mitch and Grace were there, this meant that they captured those real moments, without anyone getting camera shy, or feeling crowded. This was exactly what we wanted, and such a skill!!
Thank you, both of you, we can relive our big day every day because of your fantastic work you created, we are so grateful."
Else & Pete
London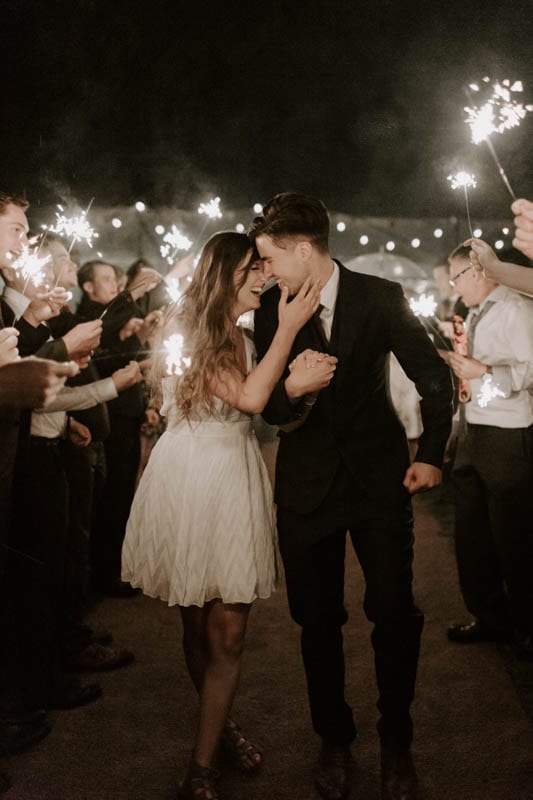 "Grace & Mitch we cannot say thank you enough for everything you've done for us! It was such a privilege to have you document the biggest day of our lives & it was such a blessing to know you guys had the day covered! We love how natural the photos and video are! You are so good at capturing the fine details that we only realised afterwards were so precious to us.
Thank you also for being so amazing at documenting our day without intruding, so many of our friends and family loved how subtle the photography & film at our wedding was. You two are amazing. We were completely blown away by the quality of the photos and film, we couldn't have asked for a more professional and personal bunch of memories! Thanks again for everything!"
David & Jess
Nottingham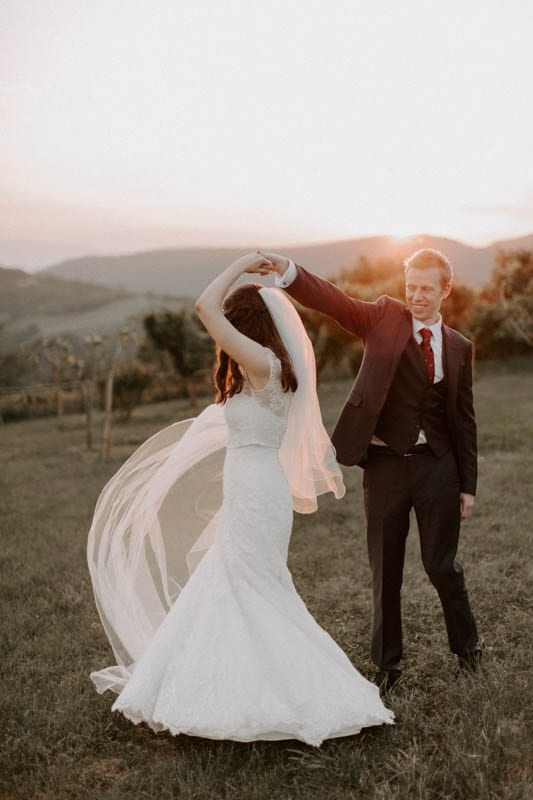 "Grace and Mitch were an absolute dream to work with. They are thoroughly professional from start to finish and the whole experience is about you as a couple. The end result is a unique and timeless style that will take your breath away. Both Grace and Mitch are softly spoken, discreet and gentle and on our wedding day we forgot they were there capturing us and our guests. Their talent is difficult to find and we are beyond grateful that we were lucky enough to have found them. Thank you Grace and Mitch for everything."
Emily & Ben
Italy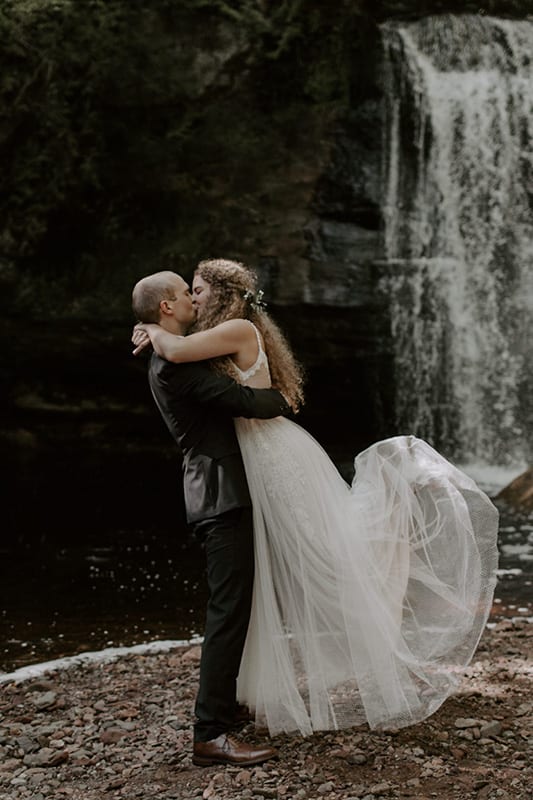 "First we just want to start this off by saying that Grace + Mitch are by far the sweetest and kindest humans! Having them be a part of our wedding day was such a blessing!
From the beginning when I first reached out to them about making a film of our special day, they expressed so much excitement for us. They traveled all the way to our tiny town in Michigan and spent the day celebrating with us. They were so professional, personable, and our wedding film is better than we ever could have imagined.
I have watched it too many times to count and it will be cherished forever! Our wedding day was honestly one of the best days of our lives and Grace and Mitch helped us bottle those memories and amazing times into the most amazing film. We are SO grateful!"
Brett & Bryana
USA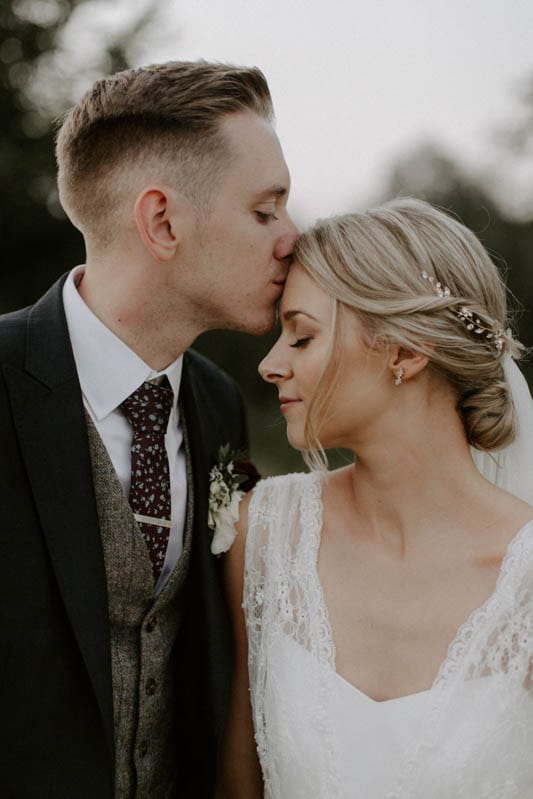 "There are no words to describe how over the moon we are with our wedding photos and film by Grace and Mitch. The quality is outstanding and they have captured our most treasured moments from the day. Not only are Grace and Mitch incredibly talented but they are very lovely people who put us at ease throughout the whole process. On the day itself, they were so relaxed and very discrete, we can not recommend them highly enough. We both want to thank you again for giving us the best memories from our day that we can treasure forever."
Jade & Dave
Birmingham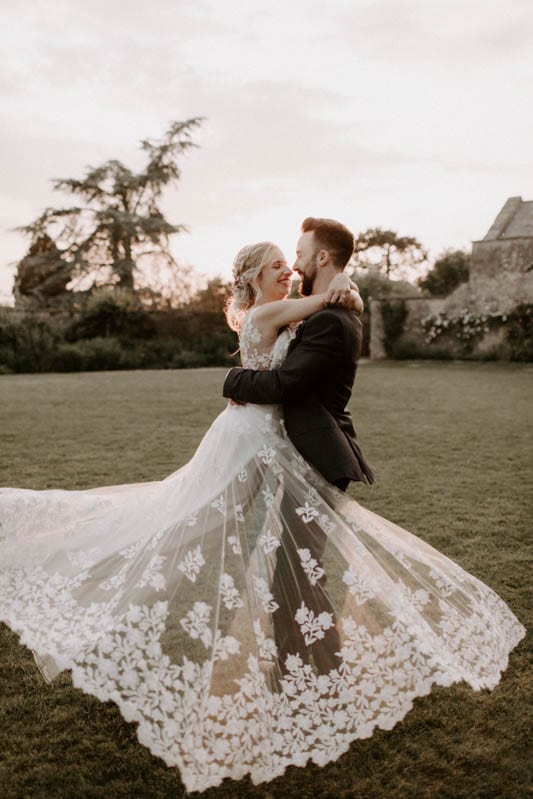 "Thank you both so much for the (2nd!) best thing to take away from our wedding day – our photos & film – memories that we can now never forget. From the beginning thank you both for really listening and wanting to get to know us and our style – you absolutely did not miss a thing. You were so incredibly professional, talented and work so hard, we could not be more grateful. We will treasure the photos and video forever – our flat is already covered!
It's hard to put into words how happy we are with what you've created. The photos are just amazing, we love them all so much, every single one is perfect! The video is just perfect too. So beautiful and full of all our emotions and special moments, I've yet to watch it without crying! Amazing how all the bits you forget come back after watching it (we've basically been watching it on repeat!). Just when we thought it couldn't get any better than the photos, you're both so talented. We are over the moon!"
Camilla & Geoff
The Cotswolds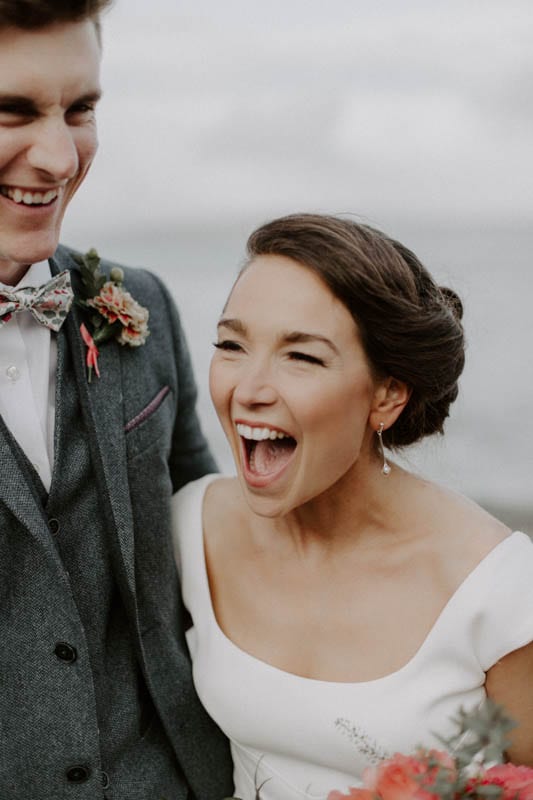 "Grace and Mitch photographed and filmed our secret proposal back in March so we were really pleased when they were available to capture our wedding too!
Our wedding photos are just stunning! We love every one of them, they remind us of that magical special day and we remember all the emotions again every time we look at them. Grace has a real art of capturing emotion and telling the story of our wedding day in a creative way. We love our bride and groom portrait shoot on the beach, the photos are so beautiful and romantic!
When we watched our wedding film together it was so special, we watched it over and over again! On our wedding it rained all day so we had to move our outdoor ceremony inside. I was initially very disappointed about the weather, however the video is so so beautiful you would never have known the weather was so awful!
It was really special having our wedding filmed by Mitch, it has added so much to our experience, I would highly recommend booking the videography for your wedding, the day goes by so quickly that I can remember hardly any of it, so it really means a lot to watch the memories back again! Thank you! We love it!"
Jesse & Amber
Cornwall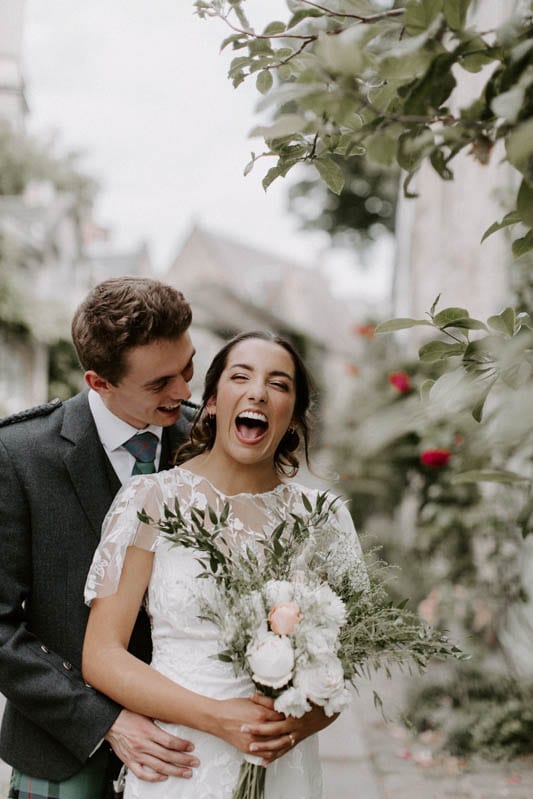 "It has been such a joy to get to know Grace & Mitch and we are so delighted with the unique photography journey they created before and during our wedding. Their attention to detail and artistic skill really came through in our photos, capturing moments of laughter and joy from the very youngest to oldest family and friends. They also focussed in on some of the important details like the dress and decor, which really meant a lot. Grace & Mitch took every effort to get to know us and understand not just how to create memories of our wedding, but also how to make our day as relaxed and special as we hoped for. Some of the really wonderful photos they took are already up around our home and have been joyfully shared with a lot of friends and family. It is such a pleasure to have these moments recorded from our day, to be able to look back on for many years."
Lucy & Sam
Edinburgh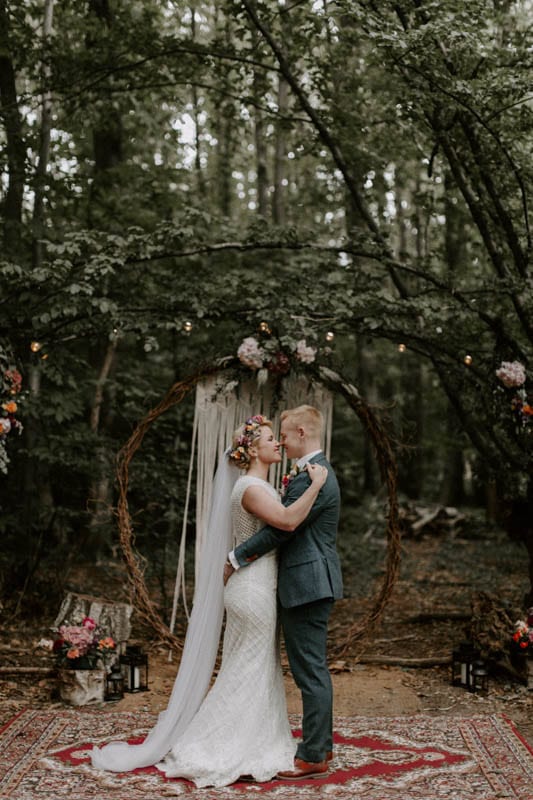 "You were the first and only photographer I contacted, I saw your incredible photographs on a wedding blog and knew immediately that I wanted you to capture our day. Your images are the perfect mix of reportage and gorgeous staging, you managed to encapsulate a feeling and I can't thank you enough for immortalising our day.
I can't stop watching our video… over and over again. I wake up, I watch it. I get on the train, I watch it. I can't stop watching it. It's amazing how happy everyone looks and how you seemed to truly capture a feeling. I could cry just writing this. After the wedding – I had that post-wedding blues feeling where I felt like it could have been better. But watching your video back and looking at the photos, seeing how happy we are and how much we're smiling and laughing, just makes me realise how wonderful it was… it really happened, and it was brilliant. We're so grateful that we had you there! Grace and Mitch, you are just perfect. Not only are you unbelievably talented, you're lovely people too. Thank you so much, sincerely, truly… thank you."
Katie & Mex
Kent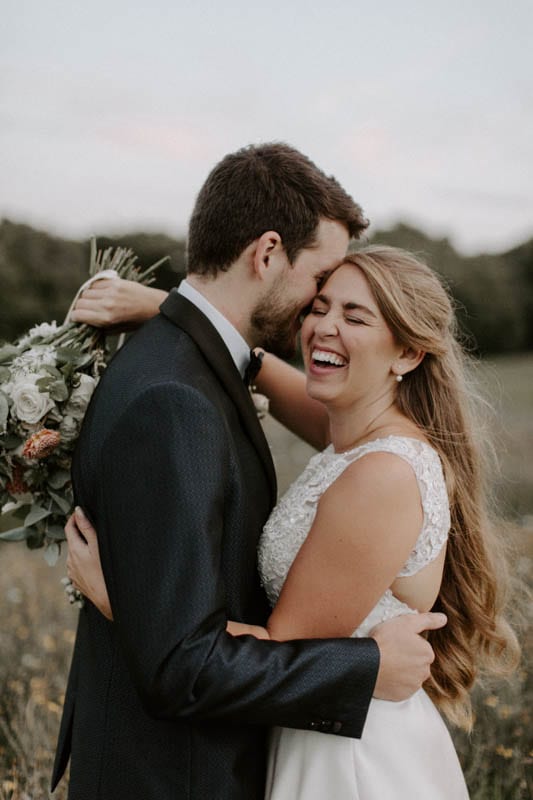 "After meeting Grace and Mitch over 2 years ago, at the beginning of their wedding business, I knew then that they were able to work so well as a team to capture the true essence of people. This was in fact just before me and my now husband were even engaged, but I knew that I needed Grace and Mitch to shoot my wedding, but little did I know I would have the chance to book them so soon after. When we got engaged I told Matt all about Grace and Mitch, we went straight to their beautiful website. He was instantly convinced. After the venue, Grace and Mitch were the second thing we booked for our big day! On the day their combined style captured everything about our relationships with our nearest and dearest by becoming immersed in the events as they unfolded. Every single person in my family have praised Grace and Mitch for blending so well into our day and just a week after the wedding both family and friends were already asking "when will you get the photos back". They were not disappointed. In our wedding album we have memories not only of us, but of friendship, relationships, children, families and so much laughter and light. I cannot recommend these guys more. You have one shot to capture your wedding and I wouldn't have trusted anyone else to have done this job for us. We cannot thank them enough!"
Abbi & Matt
Devon
"We adored having Grace and Mitch with us to capture our day, from beginning to end, they were a dream to work with. They made us feel at ease straightaway, and genuinely took an interest in our story. They caught the day in the most perfect way, and were friendly and professional. We are so happy with our pictures and video and would highly recommend them both!"
Amy & Rob
Cheshire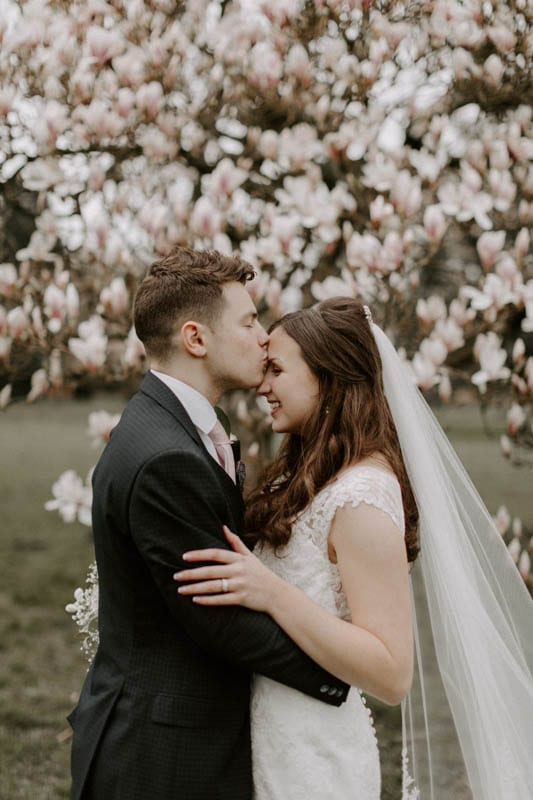 "Grace and Mitch have done an absolutely incredible job of capturing our special day in photos and video! They are breathtaking and are loved by both of us and our families greatly. From the time we sent our initial enquiry, both Grace and Mitch have been so helpful and have taken the time to listen and talk about what is important and special to us.
They were both so calm, caring and friendly during the day that it put everyone at ease and because of this managed to capture beautifully candid moments throughout which are so special to us. The quality of both the photos and the video are breathtaking, the beauty and care in each one and each part is incredible.
We are so pleased with our photos and video and honestly could not recommend Grace and Mitch more! They have beautifully captured memories that we shall treasure forever."
Rachael & Lewis
Cardiff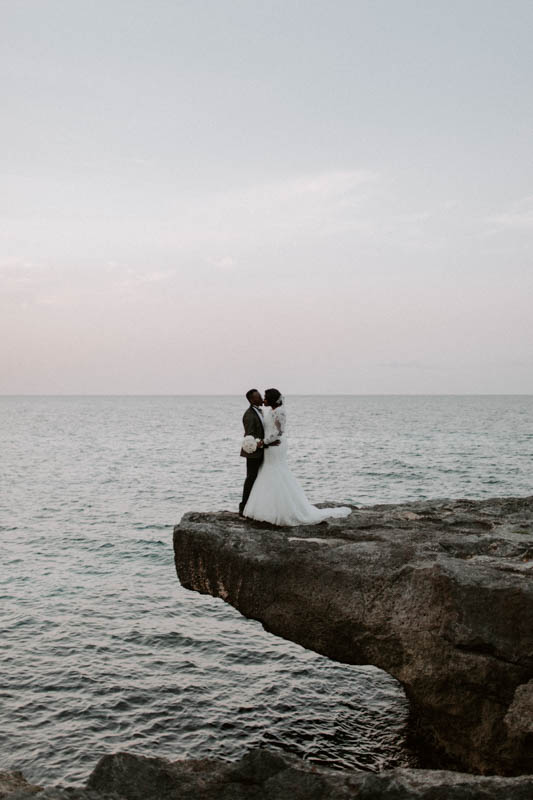 "Our photos and film are absolutely fabulous! We've really enjoyed going through them, and we can not wait to share them with our family/friends! Our wedding highlights film has been getting plenty of appreciation from our close friends and colleagues who are in love with your work, we couldn't be happier!!! We are so glad that you were both able to capture and also share our momentous occasion with us in Jamaica, which we are so glad you were also able to enjoy at the same time."
Julian & Melani
Jamaica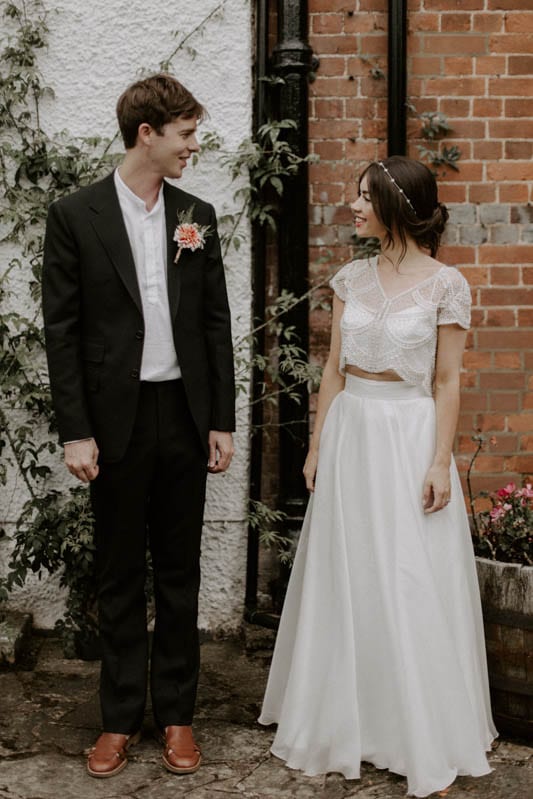 "Grace & Mitch were our wedding photographers & were amazing. They were really lovely to have there on the day, polite and charming. They felt a main part of our day and we are so happy we chose them to capture our wedding. Our photos are perfect, exactly what we asked for – natural shots that have perfectly captured the spirit of the day and of those we love."
Sarah & Mark
Berkshire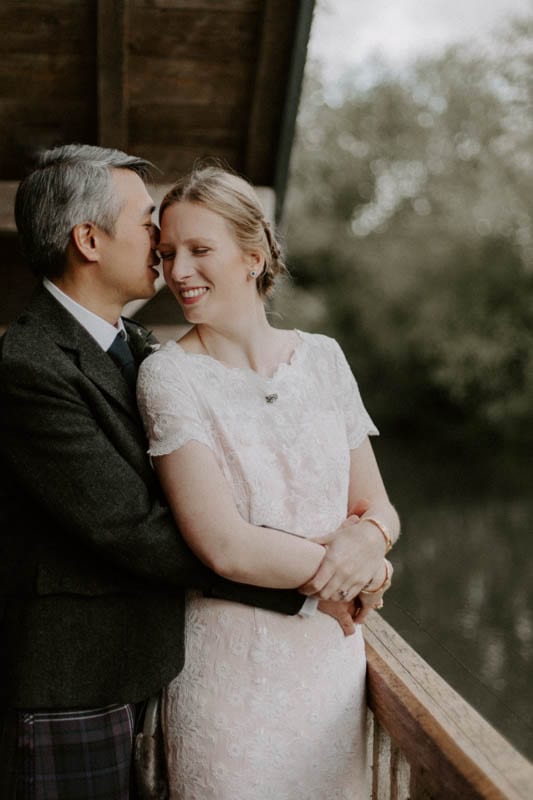 "Grace and Mitch were fantastic and we could not recommend them highly enough. We met them 6 months prior to the wedding and knew straight away that we wanted to work with them. Prior to the day we did not provide much input or direction, however we trusted them completely and what they produced is perfect. We absolutely loved our photos and on the day they were the perfect combination of professional, approachable yet unobtrusive/invisible. The moments and memories they captured could not have been better and they were so accommodating of every challenge we set them, including documenting us & our guests traveling by train from ceremony to reception and photographing our evening exit by boat! We cannot thank them enough."
Hattie & Wai Kay
Henley On Thames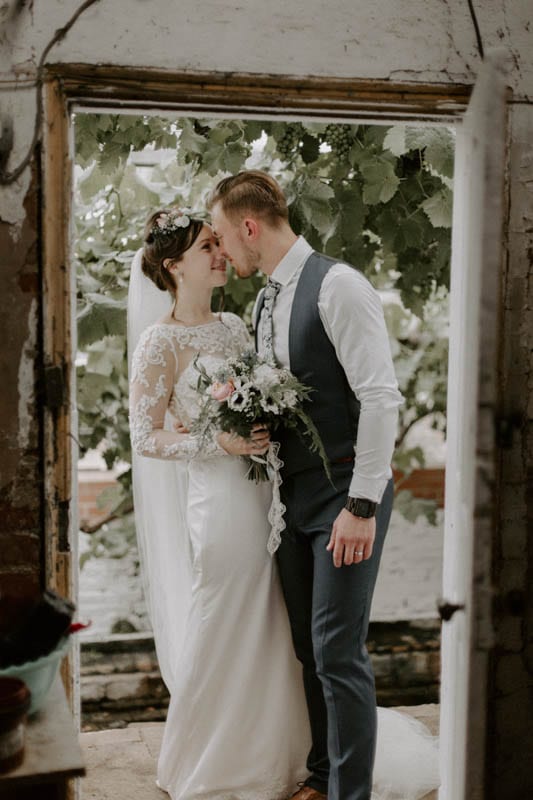 "We cannot possibly thank Grace and Mitch enough for their hard work and skill. The photographs they have taken for us will be such treasured keepsakes. When planning my wedding I put a lot of effort into seemingly small details that could easily be over looked. Grace and Mitch not only captured all of these on the day but in doing so captured their sentimental value and the hard work by our family and friends in creating them. They captured what we really wanted photographing and also moments we had no idea we would love.
It rained when we were due to have our 'group' photos, which meant these had to be fitted in at different times throughout the day. Grace and Mitch remained relaxed throughout and they made sure we got every shot we needed, allowing us to fully enjoy our day.
Grace and Mitch's style is very elegant and free. As soon as I saw their work I knew I wanted them to capture that style on my wedding day. And from the first thing in the morning until the dancing in the evening they were by us and our families side. The photos arrived in beautiful packaging and have made everyone cry when reliving our beautiful day. I recently made a scrapbook of the day for my Mum's Christmas present and I found it so hard to pick out photos as every photo has meaning to us. Thank you Grace and Mitch, for your talent, kindness and patience throughout."
Luke & Zoe
Nottingham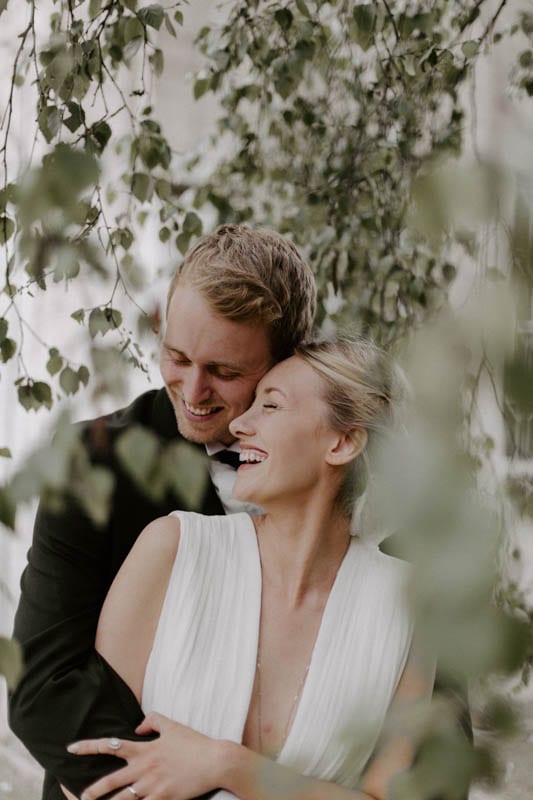 "Grace & Mitch were recommended to me by my maid of honour who is also a photographer, so I valued and trusted her opinion. From the start of our communications I knew I wanted them to shoot our wedding, they were so polite and friendly and their portfolio spoke for itself. I couldn't be happier with the photos Grace produced, and the videography by Mitch just brings the day back to life in such a beautiful way. Having a wedding video is something I would plead couples not to miss out on!"
Zoe & Daniel
Gloucester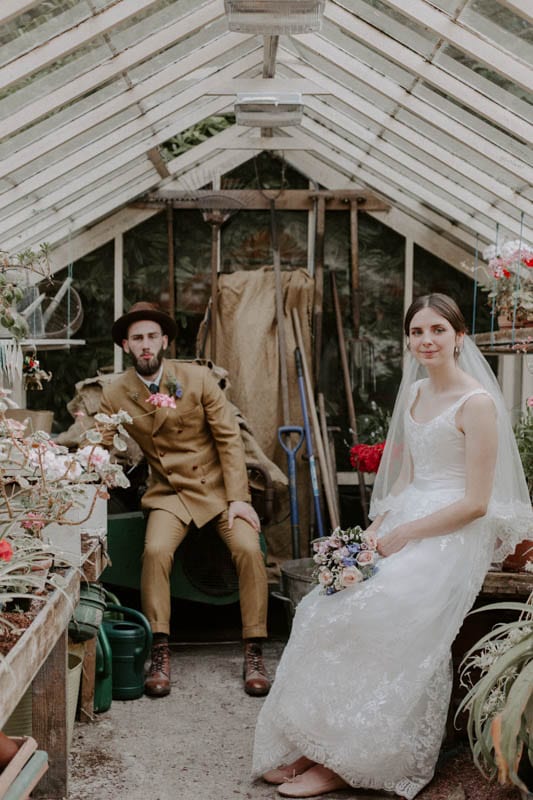 "I work in the wedding business, I've been to a lot of weddings, I've seen a lot of wedding photos, but Grace & Mitch's photos for our wedding are by far the best I have ever seen. The photos speak for themselves, they are otherworldly. Yet it's Grace & Mitch's natural, professional and artistic ability to adapt to exactly what we wanted that is so invaluable. For me and my wife to be able to look back at our wedding through their lens, at an overwhelming quantity of photos, at an incredible quality is more than we could have asked or imagined."
Solomon and Emilie
Nottingham